Ernie Ball Music Man Jason Richardson Signature Cutlass HH 7-String - Natural Buckeye Burl
You can buy from our marketplace too
7-string HH Cutlass from Jason Richardson
Custom electronics and a one-of-a-kind breathtaking top give Jason Richardson's (Chelsea Grin, All That Remains) 7-string signature Cutlass a unique palate of performance colors and showstopping visuals to match. This guitar's lightweight, sculpted body is built from premium alder and an utterly unique buckeye burl top, outfitted with a Jason Richardson slender-carve custom roasted maple neck, an ebony fingerboard, and 24 stainless steel frets for long-lasting great performance. The Cutlass 7 features twin direct-mount humbuckers with push-pull coil-splitting for the best in modern and classic guitar tones. Rounding it all out are a set of Schaller locking tuners and a floating trem for rock-solid intonation and stability. Looking for a different take on the classic Cutlass style? Have a look at the Ernie Ball Music Man Jason Richardson Cutlass 7.
7-string performance
For jazzy bass to pummelling modern metal, Jason Richardson's 7-string take on the classic Cutlass equips you for myriad music styles.
Coil-split humbuckers
Looking for wrought iron modern performance and classic shades of single-coil punch? You'll find it all in Jason Richardson's signature 7-string Cutlass. It comes equipped with a pair of custom-voiced humbuckers, each with push-pull coil-splitting, to unlock bone-crushing attack, laser-like sustain, and timeless S-style cleans and grit.
Hum-free performance
Thanks to the installed active wide-spectrum silent circuit, you'll enjoy hum- and buzz-free performance from your Jason Richardson Cutlass 7. The silent circuit provides 500 hours of battery life for worry-free performance while delivering tonal consistency through all five pickup selector positions. Music Man has created a groundbreaking way to combat noise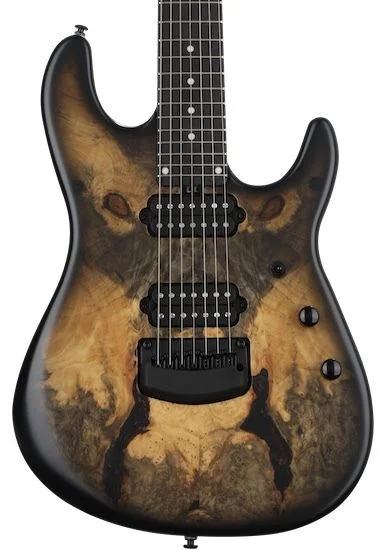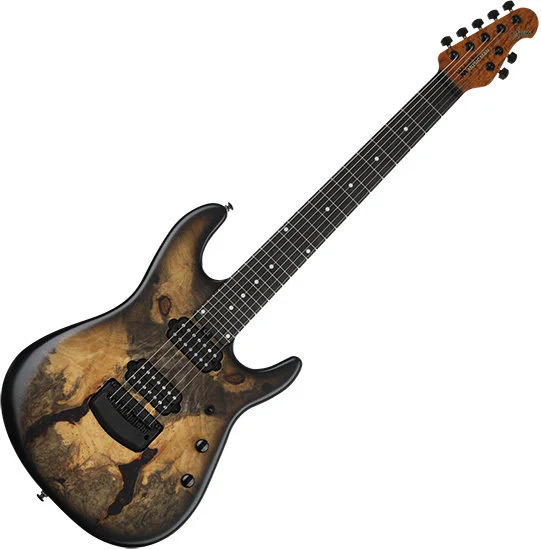 Classic Cutlass body design
The sculpted alder/buckeye body of the Jason Richardson Cutlass 7 will feel familiar to classic players and Cutlass lovers alike. The vibrato bridge/tailpiece boasts vintage-style bent-steel saddles for classic tone and feel, while the double cutaway and sculpted neck joint allows for smooth access to the higher frets.
Roasted figured maple neck
There's no substitute for a great neck. Ernie Ball Music Man and Jason put a ton of work into developing a neck that would provide the perfect balance of comfort, speed, and stability, and for his signature Cutlass 7, they spec'd premium roasted maple with incredible tone and figuring. Thanks to its hand-rubbed oil finish, the back of the neck glides effortlessly through the hand. And with its 5-bolt, laser-etched Jason Richardson signature heel plate, this bolt-on delivers stability that surpasses even set necks.
Class-leading features
The Cutlass 7's premier features give you the performance and stability you demand. Schaller locking tuners offer solid tuning stability. And 24 stainless steel frets will give you long-term use without wearing out. The truss rod adjustment wheel, located at the heel of the neck, makes on-the-fly neck relief changes fast and easy.
Ernie Ball Music Man Jason Richardson Cutlass 7 Solidbody Electric Guitar Features:
Signature 7-string Cutlass from guitarist Jason Richardson (All That Remains, Born of Osiris)
Classic alder body with a one-of-a-kind buckeye burl top
Slender-carved roasted maple neck with articulate ebony fingerboard
24 stainless steel frets deliver lasting beauty and performance
Custom voiced EBMM humbuckers with push-pull coil-splitting
Active Silent Circuit for hum-free performance
Onboard +20dB boost fires up those lead tones
Straight-pull oversized headstock
Schaller M6-IND locking tuners