Fender American Elite Jazz Bass - Ocean Turquoise, Ebony Fingerboard
You can buy from our marketplace too
A Jazz Bass for the Modern Player
Fender's American Elite Jazz Bass provides players with a classic bass that's updated for modern playing styles. You'll get the familiar round lows and clear top end that Jazz Basses are known for, thanks to a pair of fourth-generation Fender Noiseless single-coil pickups. An 18-volt active preamp adds a 3-band EQ and an active/passive switch. And features like a 9.5"–14" compound-radius ebony fretboard make these J Basses effortless to play. The Fender American Elite Jazz Bass propels one of the most popular workhorse basses of all time into the future.
Familiar tones with a twist
Onboard the American Elite Jazz Bass is a duo of Fender's fourth-generation Noiseless J Bass single-coil pickups. These designs deliver the Jazz Bass's familiar punch and warmth, while the Noiseless circuitry eliminates unwanted noise and hum, making the bass ideal for live performance and recording. The 3-band active preamp adds a wide range of tonal control with a switch to go passive if you so choose. And the alder and maple construction with a maple neck is a tried-and-true combination that has proven itself over decades.
Neck designed with you in mind
Fender Jazz Basses have been known for their iconic neck profiles since their introduction. Narrower and faster than a traditional P-style neck, they are a favorite of countless bassists worldwide. The American Elite Jazz Bass continues the tradition with a comfortable contour that morphs from a "C" to "D" profile as you move up the neck. And the 9.5"–14" compound fretboard radius ensures comfort whether you're holding down the low end or delivering melodic statements higher on the frets. This neck gives you the feel of a well broken-in bass as soon as you open the case.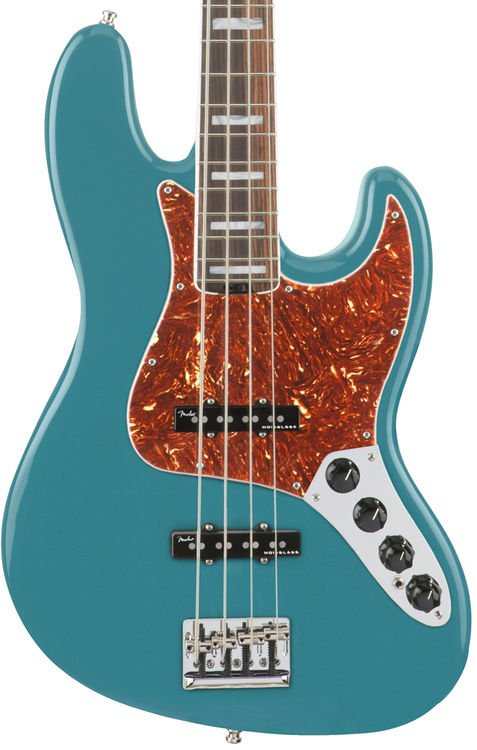 The quality is in the details
Whether you play sitting or standing, bassists at Hiendguitar are sure you'll appreciate the comfort of the American Elite Jazz Bass's belly and arm contours. A Fender HiMass vintage-style bridge anchors the strings either through the body or in a top-load configuration. And adjusting the neck relief couldn't be easier because of the truss rod adjustment wheel located at the butt end of the neck. But because of a pair of Posiflex graphite support rods, you'll rarely have to worry about this ultra-stable neck.
Fender American Elite Jazz Bass Features:
Upgraded American Jazz Bass
Balanced alder body
Clear-sounding maple and ebony neck
Vintage-style 4th-generation Fender Noiseless pickups
Active 3-band EQ opens up your tonal options
An active/passive switch is a lifesaver if your battery dies
Ideal 9.5"–14" compound-radius fretboard
Comfortable belly and arm contours
Butt-end located truss rod adjustment wheel
Bone nut
Includes strap locks and adjustment wrenches