GIBSON Flying V 120 Heritage Cherry DV120HCCH1
You can buy from our marketplace too
The Flying V is the original rebel-rousing rocker, way ahead of its time in the late ‰ۡó»50s and still a major style statement today. Following in the footsteps of this iconic guitar, the Limited Run Flying V 120 is the perfect candidate to join in Gibson USA‰ۡó»s 120th Anniversary celebrations. Combining time-tested tonewoods, versatile pickups, and unparalleled Gibson USA craftsmanship at an unbeatable price, the Flying V 120 launches your music into the stratosphere, while making the perfect ticket to the party for collector and player alike.
̴Ì_

The Flying V 120 takes off with a select mahogany body cut to the legendary space-aged angles of the original. The glued-in mahogany neck is carved to the fast, slim profile that so many rockers love, with a bound one-piece Grade-A rosewood fingerboard with frets over binding and dot inlays. The traditional ‰ۡÌÝ?arrowhead‰ۡó? headstock has a white plastic truss-rod cover with Gibson logo, and there‰ۡó»s a commemorative ‰ۡÌÝ?120th Anniversary‰ۡó? banner at the 12th fret. Vintage tones with contemporary performance come from Alnico V Burst Bucker Pro Rhythm and Lead pickups, made in the image of the original PAF humbuckers with mismatched coils for characteristic bite and depth. A chrome Tune-o-matic bridge and stopbar tailpiece partner with Grover‰̣ۡå¢ Kidney Button tuners for smooth, efficient performance. The Flying V 120 comes in sleek Heritage Cherry, Ebony and Classic White, finished in high-gloss nitrocellulose lacquer, all protected by an elegant brown hardshell case.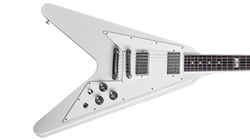 BODY LANGUAGE
SPACE-AGED ANGULAR STYLING REMAINS AS RADICAL TODAY AS IT WAS IN THE LATE ‰ۡó»50S.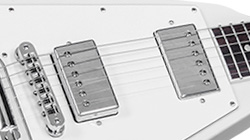 PICKUP LINE
BURST BUCKER PRO RHYTHM AND LEAD PICKUPS OFFER VINTAGE PAF-STYLE TONES WITH MODERN PERFORMANCE.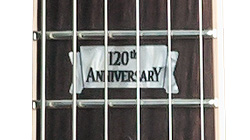 BANNER YEAR
COMMEMORATIVE ‰ۡÌÝ?120TH ANNIVERSARY‰ۡó? BANNER AT THE 12TH FRET SHOWS YOU‰ۡó»RE IN ON THE CELEBRATIONS.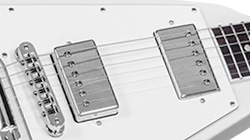 IN CONTROL
INDEPENDENT VOLUME CONTROLS FOR EACH PICKUP, WITH MASTER TONE AND 3-WAY SWITCH.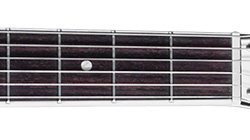 NECK AND NECK
SELECT MAHOGANY NECK, GRADE-A ROSEWOOD FINGERBOARD, FRET OVER BINDING FOR ADDED PLAYING SURFACE.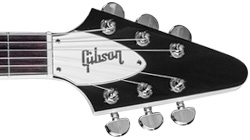 HEADS ABOVE
CLASSIC ‰ۡÌÝ?ARROWHEAD‰ۡó? HEADSTOCK WITH QUALITY GROVER‰̣ۡå¢ KIDNEY BUTTON TUNERS.