A revolutionary rocker ever since its introduction in the late ‰ۡó»50s, the Flying V still makes a major style statement today. As part of its 120th Anniversary celebrations, Gibson USA introduces the Limited Run Flying V History, with all the iconic looks of the original plus a few clever twists on the form. A thinner body lightens the load, while a slightly smaller ‰ۡÌÝ?arrowhead‰ۡó? headstock balances out the top end. Add two of Gibson‰ۡó»s most popular humbucking pickups, time-tested tonewoods and unparalleled Gibson USA craftsmanship‰ۡÌÝÌÒall at an unbeatable price‰ۡÌÝÌÒand the Flying V History is ready to launch.
̴Ì_

The Flying V History takes off with a Grade-A mahogany body cut to the radical angles of the original, but with thinner dimensions for enhanced playing comfort. The glued-in Grade-A mahogany neck is carved to the fast, slim profile preferred by so many rockers, with a bound one-piece Grade-A rosewood fingerboard with frets over binding and dot inlays. The ‰ۡÌÝ?arrowhead‰ۡó? headstock is slimmed down, with a white plastic truss-rod cover with Gibson logo, and there‰ۡó»s a commemorative ‰ۡÌÝ?120th Anniversary‰ۡó? banner at the 12th fret. A ‰ۡó»57 Classic and ‰ۡó»57 Classic Plus humbucker, neck and bridge, provide all the grind and wail you need, with sultry mellow tones too when required, wired through individual volume controls and a master tone with ‰ۡÌÝ?witch hat‰ۡó? knobs. A chrome Tune-o-matic bridge and stopbar tailpiece partner with Grover‰̣ۡå¢ Kidney Button tuners for smooth, efficient performance. The Flying V History comes in Aged Cherry finish in high-gloss nitrocellulose lacquer, protected by an elegant brown hardshell case.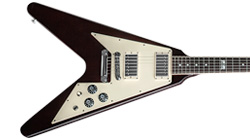 BODY LANGUAGE
ICONIC ‰ۡÌÝ?V‰ۡó? STYLING, SLIMMED DOWN FOR OPTIMUM PLAYING COMFORT.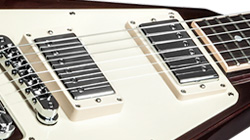 PICKUP LINE
‰ۡó»57 CLASSIC AND ‰ۡó»57 CLASSIC PLUS PICKUPS OFFER VINTAGE PAF-STYLE TONES WITH MODERN PERFORMANCE.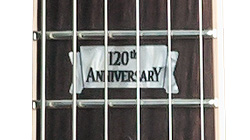 BANNER YEAR
COMMEMORATIVE ‰ۡÌÝ?120TH ANNIVERSARY‰ۡó? BANNER AT THE 12TH FRET SHOWS YOU‰ۡó»RE IN ON THE CELEBRATIONS.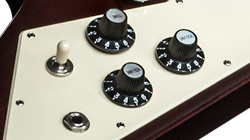 IN CONTROL
TWO VOLUME CONTROLS, MASTER TONE, 3-WAY SELECTOR, WITH ‰ۡÌÝ?WITCH HAT‰ۡó? KNOBS.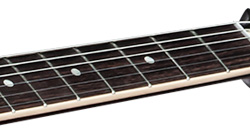 NECK AND NECK
SELECT MAHOGANY NECK, GRADE-A ROSEWOOD FINGERBOARD, FRET OVER BINDING FOR ADDED PLAYING SURFACE.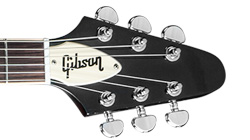 HEADS ABOVE
CLASSIC ‰ۡÌÝ?ARROWHEAD‰ۡó? HEADSTOCK, SHORTENED FOR BALANCE AND ELEGANCE.