Gibson Memphis 1963 ES-335TDC VOS Bigsby Sixties Cherry w/Custom Made Plate
You can buy from our marketplace too
Impeccable '63 ES-335 "Block" Reissue with Bigsby!
For the 1963 ES-335TD, Gibson Memphis went back to the drawing board to create one of the most accurate vintage reproductions to date. With its arched top, F-holes, window center block, and dual humbuckers, the semi-hollow '335 gives you the raw power of a solidbody, with the refined elegance of a traditional Gibson archtop. This exquisite axe features a luscious aged finish, classic hardware, hide-glued neck, tulip-button Kluson tuners, Adirondack spruce bracing, and vintage-style block fingerboard inlays. Dial in a wide range of guitar tones, thanks to the alnico magnet pickups and Varitone circuit. Complete with a Bigsby vibrato tailpiece, the versatile Gibson Memphis 1963 ES-335TD is as perfect for jazz and fusion as it is for blues and rock.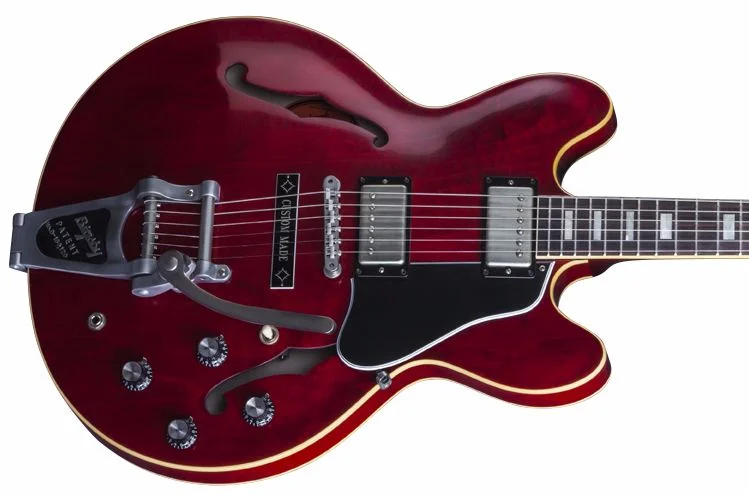 Updated vintage appointments are more authentic than ever
Gibson's latest Custom Shop reissue guitars include new appointments to add even more authenticity and vintage vibe. Necks are now attached using hide glue, which many argue sounds better than synthetic glue. Gibson Memphis Shop also re-engineered the truss rod, truss rod washer, and anchor to their original form. They also eliminated the tubing that surrounded the truss rod. New Kluson Green Key Tuners now feature proper vintage profile, color, and performance specifications. These features and others make the Gibson Memphis 1963 ES-335TD one of the most accurate reproductions ever.
Legendary tone from unpotted MHS humbuckers
Tonal excellence is yours when you plug the Gibson Memphis 1963 ES-335TD into your favorite tube amplifier. Loaded with a pair of unpotted humbucking pickups, each with its own volume and tone controls, you'll be able to dial in chiming country tones as easily as savagely distorted rock tones. The neck pickup gives you classic hollowbody-style tones for everything from smooth jazz to dirty blues. Flip to the bridge position, and you'll command sounds covering everything from bright and clean to raw and mean. The guitar gurus here at Hiendguitar all concur: playing this guitar is a sublime experience. We're sure you'll agree!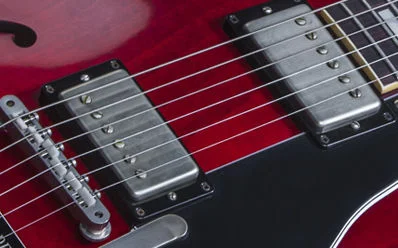 A semi-hollowbody that is true to the original
The first ES-335s that rolled off the Gibson production line have truly achieved legendary status. With the warmth of its semi-hollowbody design and the versatility of its two humbucking pickups — it's a magical recipe that made the original ES-335s sought-after guitars among collectors who are often happy to pay astronomical prices for instruments in good condition. Odds of even finding a "block" '335 from the 1960s are almost zero. The next best thing is to get your hands on this Gibson Memphis 1963 ES-335TD. It has the looks, the sound, and the star power of the real deal.
Gibson Memphis 1963 ES-335TD Features:
Captures the legendary sound of Gibson's 1963 ES-335
Semi-hollowbody design for enhanced harmonic richness
3-ply maple/poplar/maple top, back, and sides
Historic truss rod for better neck adjustability
Adirondack spruce bracing takes you closer to vintage tonality
Hide-glued mahogany neck, rosewood fingerboard
Comfortable lightweight body with historically correct slim horns at the cutaway
Period-correct "window" centerblock shape and neck profile
Unpotted MHS humbuckers (Alnico III neck, Alnico II bridge)
550k audio taper close-tolerance matched-set pots, historic wiring, Bumblebee caps
Individual tone, volume, and Varitone controls allow you to dial in virtually any type of tone
Double-ring tulip button Kluson tuners and Bigsby B-7 tailpiece