PRS John Mayer Silver Sky - Tungsten
Sale price
Rp39,000,000.00
Regular price
(/)
---
PRS's Take on an American Classic
The PRS Silver Sky was designed by Paul Reed Smith and built to John Mayer's specifications. This vintage-inspired guitar boasts a familiar shape with an eye-catching contrasting tone in its cutaway scoop. Its neck carve, scale length, and fingerboard radius were modeled after John's early-'60s instruments; however, a modified PRS-style headstock and locking tuners propel it firmly into the twenty-first century. Park this axe in front of any tube amp, and its sweet-sounding single-coil pickups will churn out glassy, musical tones with excellent note definition. Beyond that, the Silver Sky includes a bone nut, molded metal jack plate, retooled knobs, custom fret-wire, and PRS's double-action truss rod.
Vintage-inspired neck with practical contemporary touches
The Silver Sky's bolt-on neck is patterned after John Mayer's beloved vintage instruments. Its fingerboard is loaded with 22 custom-sized frets, and it boasts a 25.5" scale length and 7.25" radius, we're intimately familiar with the unique feel of classic American electric guitars, and we can attest — PRS nailed it. Wrap your hand around this neck, and you'll agree — it just feels right. The Silver Sky features an inverted PRS-style headstock that's been modified to accommodate John's playing style and to keep a consistent length of string behind the nut, which improves intonation. You also get traditional vintage-style closed-back tuners with modern locking mechanisms.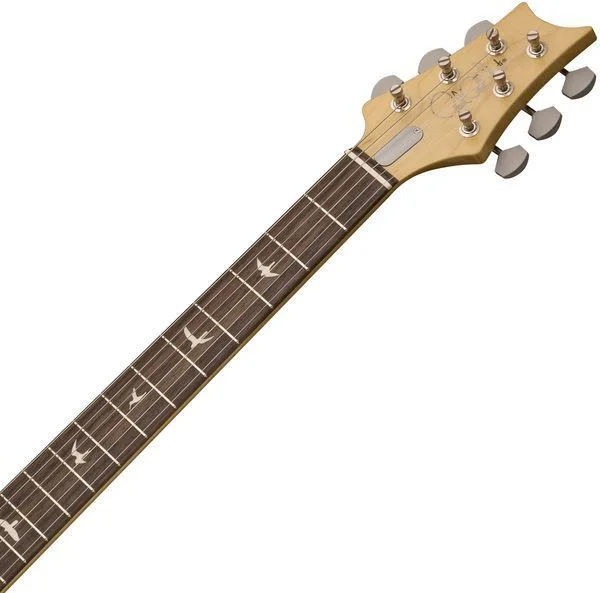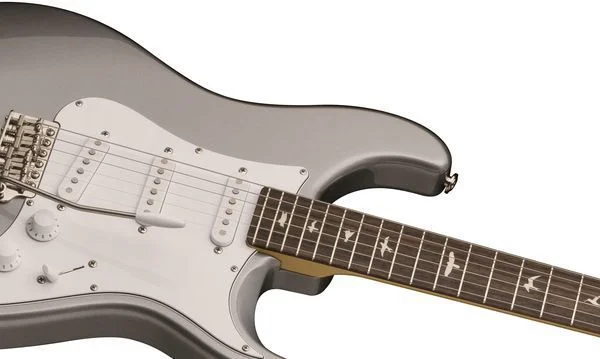 A trio of sweet-sounding single-coil pickups
If you're a single-coil tone connoisseur, you'll love the PRS Silver Sky. Its pickups combine the best elements of early-'60s American electric guitars: a round and full tone with glassy, musical highs that never venture into ice-pick land. The chiming harmonics yielded by these pickups are jaw-dropping. And when you put them in front of a tube amp, you get a gorgeous growl with outstanding note definition. These pickups have a few modern tricks up their sleeve, too: they exhibit a higher signal-to-noise ratio than vintage models, and their in-between sounds are noise canceling. On top of that, their electronics have been precision valued, ensuring superior consistency from pickup to pickup.
Classic-styled tremolo with modern reliability
Much like its tuners, the Silver Sky's tremolo takes a classic design and embellishes it with modern features. For starters, it features PRS's unthreaded tremolo arm, which supplies you with a small set screw to optimize its playing position. Beyond that, Gen III knife-edge screws ensure a reliable return to pitch. Also, per John Mayer's request, the tremolo rests flush against the guitar's body in a neutral position, so that it only goes down in pitch. Keeping the bridge in contact with the body amplifies the guitar acoustically, which improves the signal-to-noise ratio of the Silver Sky's pickups.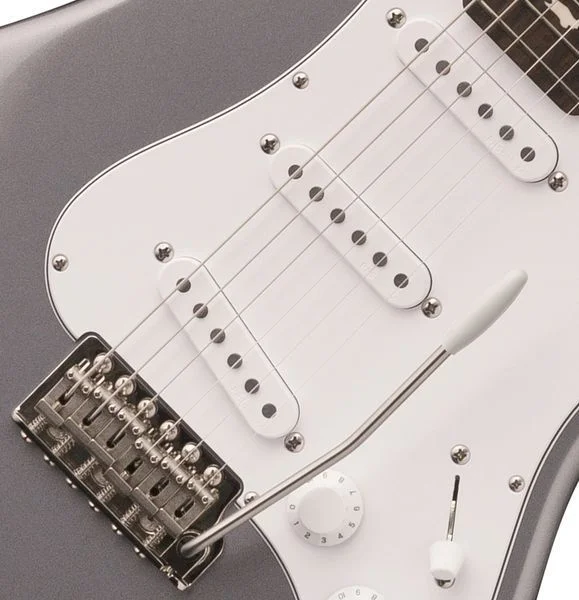 PRS John Mayer Silver Sky Solidbody Electric Guitar Features:
Vintage-inspired guitar based on John Mayer's early-'60s instruments
Familiar shape with an eye-catching contrasting tone in its cutaway scoop
Comfortable bolt-on maple neck is patterned after John Mayer's beloved vintage instruments
Easy-playing rosewood fingerboard with 22 custom-sized frets, 25.5" scale length, and 7.25" radius
Inverted PRS-style headstock was modified to accommodate John's playing style and improve intonation
Sweet-sounding single-coil pickups churn out glassy, musical tones with excellent note definition
Classic-styled tremolo with PRS's unthreaded trem arm and Gen III knife-edge screws
Traditional vintage-style closed-back tuners with modern locking mechanisms
Includes a bone nut, molded metal jack plate, retooled knobs, and PRS's double-action truss rod
0350634
0351398
Choose options